It is said that wild Reishi mushroom benefits your spirituality more than any other herb or substance known.
In addition to that, it is also known that Reishi mushroom benefits your immune system more than any other herbal adaptogen on the planet (with the exception of other similar medicinal mushroom species). Through the millennia it has been seen as the single most important herb for Chinese longevity. Chinese herbalism nicknamed the Ganoderma mushroom "the mushroom of immortality" because of the rumoured mystical powers that it granted to those who consumed it. Among the "superior class" (the top of three classes) of herbal adaptogens in Chinese herbalism, the Linzhi (a.k.a. Reishi in Japanese a.k.a. Ganoderma Lucidum in Latin) mushroom ranks at the number one position.
Traditional properties: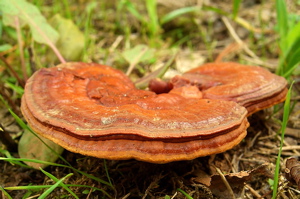 Reishi supplements all 3 treasures (Jing, Chi and Shen) but has the most tonic action on Shen (spiritual radiance). Many Chinese herbalists recognize that wild Reishi mushroom benefits Shen more than any other herbal adaptogen known. The Ganoderma mushroom is a Chinese symbol for longevity. It is often compared to the lotus flower from the Buddhist traditions in terms of its significance as a spiritual symbol. For the Chinese, longevity was inseparable from spirituality and those who pursued life-span development were also seen as spiritually "advanced". The two pursuits definitely go hand in hand since the longer you live, the more time you have to meditate, pray and do other spiritually advancing practices!
Although it is tonic to the whole body, red (the most commonly cultivated and most medicinally active) Reishi mushroom benefits the Liver and Heart organs foremost. Chinese medicine capitalizes certain organs since they are seen as a group of two or more organs that work in tandem